Friends of Scouting

To ensure the quality of Scouting programs remains fun, safe and most importantly, available-we ask that you help us offset some of our program costs by making a financial contribution to the Shenandoah Area Council. Your partnership contribution helps offset the hundreds of thousands of dollars needed annually to provide on-going programs for our young people regardless of their economic situation.
From our scout service center and scout shop, volunteer training programs and staff support to our Council camp property, Camp Rock Enon, we are very proud and feel fortunate to have such great facilities available to our young people. To help us continue delivering the Scouting tradition, we have the annual Friends of Scouting Campaign. You are asked to join with many others from the Shenandoah Area Council in entering into a financial partnership and make a contribution or a pledge to regularly contribute, to help support our young people. Annual giving is vital to the success of Scouting. Your contributions go toward offsetting the council's administrative costs and for programming and properties in support of our young people as they work to reach their goals.
Friends of Scouting is an annual direct solicitation campaign, reaching out to Scout families, service organizations, alumni, businesses, and other friends. It is the Council's largest source of income.
What does a Friends of Scouting Membership provide?
Local programs and activities throughout the Councils territory
Camp scholarships, uniforms, and registration fees for at-risk youths
A Scout Service Center that coordinate Scouting activities and provide customer service to members
Accident and liability insurance to protect both youth and adult members
Professional staff who counsel, guide, and inspire volunteer leadership
Camps and facilities available for year-round camping and Cub Scout family outdoor events
Opportunities to attend summer camp and high adventure events
Advancement programs where Scouts are recognized for learning and making progress on goals they set and attain
Literature and training material development and distribution
A hiking-trail system at Camp Rock Enon
Leadership training for young people who will become future community leaders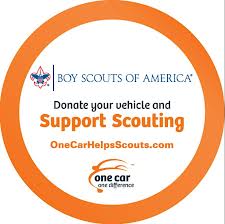 We are excited to announce the Boy Scouts of America vehicle donation program supported by a national agreement with Insurance Auto Auctions, Inc. and One Car One Difference. This program provides a new way to raise money for our Council, as well as drive awareness for the Boy Scouts of America nationally. Please click here to be directed to the website and become a donor today!