Camp Rock Enon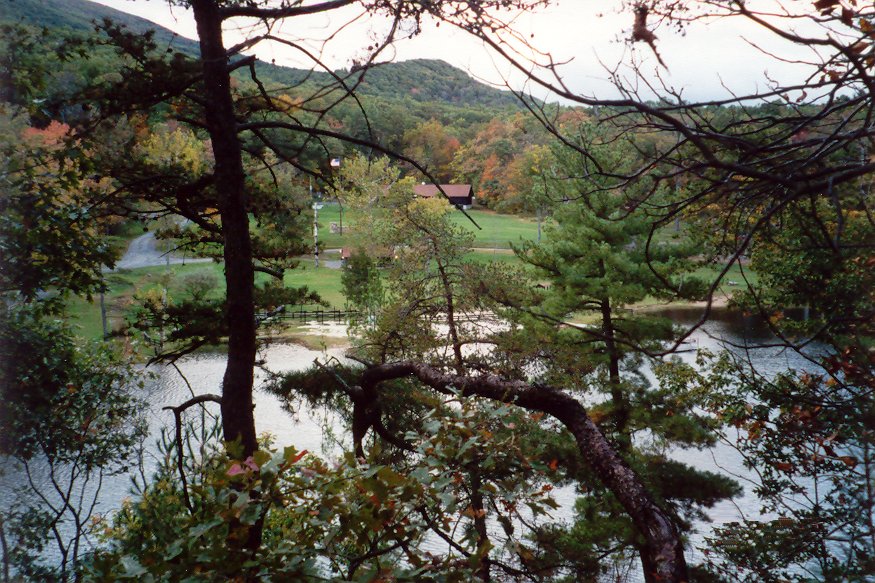 View from Chapel Hill at Camp Rock Enon
Camp Rock Enon consists of 860 acres nestled in the foothills of NorthMountain in Gore, Virginia. The camp was first opened in 1945 by theShenandoah Area Council as its Boy Scout Summer Camp. Over the yearsmany upgrades have been made but the "Rustic Splendor" enjoyed in 1945are still enjoyed by all. Camp Rock Enon is still being utilized as theSummer Camp for Boy Scouts and also for Cub Scout Resident Camp, CubWeekend Camp, and Explorer/Venturer Weekend Camps. In addition, over3000 Scouts and Scouters from Cub Packs, Scout Troops, Venture Crews,and Explorer Posts camp on their own during the off-season.
The site of Camp Rock Enon was originally the home ofthe Rock Enon Springs Resort. Rock Enon Springs Resort was built uparound a mineral water spring and was originally called Capper Springs after an early settler, John Capper. In 1856,William Marker bought the property and built a hotel to accommodateguests at the springs. The resort contained six types of springs on the942 acres (3.8 km²) of property. During the mid 19th century,it became very popular as a place for people to heal various ailmentsby soaking in the spring's "medicine" waters. The resort survived the American Civil War and continued to draw Virginia's elite. It changed owners several times until, in 1919,it was purchased by Fred Glaize, Sr. and Lee Herrellin who tore downseveral buildings and the original wing of the hotel. The resortcontinued to lose business until 1945 when the Glaize Family sold the resort to the Shenandoah Area Council, Boy Scouts of America who now use it as their summer camp, Camp Rock Enon.
16 miles west of Winchester, Virginia on Route 50 West. Take left at Gore, Virginia (look for the BSA Camp road sign). Takeleft on Route 704 (look for Camp Rock Enon Sign). Go 4 miles and makeleft on 683 (look for Camp Rock Enon Sign) - will take you to camp.