Venturing C.R.E.W.S. July 25-31, 2021
Camp Rock Enon Weeklong Summer camp
YES! Rock Enon will be open for Summer Camp this year.
During a recent press conference by the governor of Virginia he said "overnight summer camps will be allowed to open".
To Register for this event click
HERE
COVID-19 Update click
HERE
(updated 2/11/21)

We are pleased to announce the introduction of a dedicated weeklong Venturing Summer program at Camp Rock Enon.
Camp Rock Enon features some of the best natural rock face climbing and rappelling in the mid-Atlantic area with heights ranging from 30-80 feet. Our Shooting Sports area includes archery, 3D archery and aerial sporting arrows, .22 rifle and pistol, shotgun, muzzleloader and cowboy action shooting ranges. Have you ever been to a renaissance festival? Well, you will get the chance to while at Camp Rock Enon this Summer. Dressed up as your favorite "Ren Fair" character or not, you are sure to have a lot of fun. Come out and enjoy jousting, tomahawk throwing, catapult challenge and many other renaissance fair games, plus music, food and much more during the big Renaissance Festival on Friday evening. This program offers both requirement and non-requirement based sessions, competitions and tons of "open" program area time that represents the diversity of the Venturing program.
The week will include sessions that give the Venturer the opportunity to work on "Core" and "Elective" requirements to help them earn the Ranger Award.
Plus much more...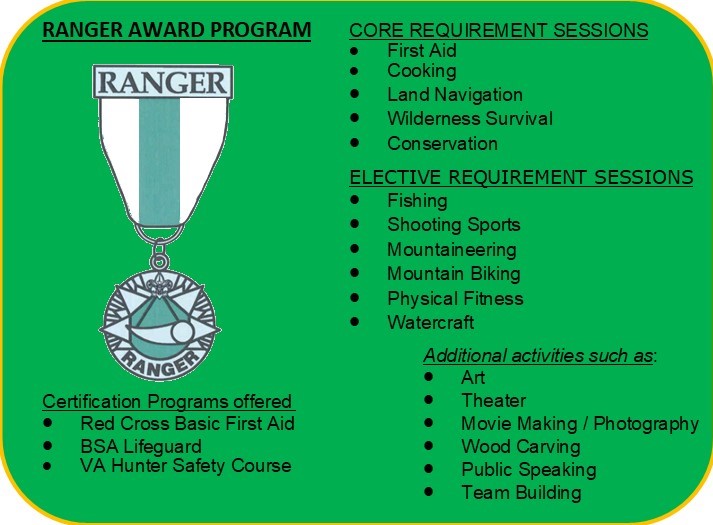 For more information contact:
CREProgramDirector@gmail.com
To Register for this event click

HERE
PLEASE NOTE: Everyone (Scouts, advisors, adults, siblings and staff) that will be in attendance at this activity MUST have a current copy of their BSA Medical form parts A,B &C with them when they check in.
To DOWNLOAD a copy of the Activity Guide for this program click HERE
To DOWNLOAD a copy of the BSA Medical Form Parts A,B&C click HERE
To DOWNLOAD a copy of the Refund Policy click HERE
To NOTIFY our Food Services Manager of participant with a Food Allergy or Special Dietary Need click HERE
To NOTIFY our Special Needs Committee of a participant with a Special Need click HERE
To DOWNLOAD a copy of our current COVID-19 UPDATE click HERE