CRE Open Activities Day
Are you looking for some outdoor fun activities this Fall? The Shenandoah Area Council hosts the Camp Rock Enon Open Activities Day in October each year. Open to all Scouts BSA and Venturing youth (age 11-20), these activities include a variety of options for participation as an individual Scout with or without members of their troop or crew. Scouts can choose to attend for the Day-Only or camp overnight with their unit, in one of the many campsites or cabins at CRE. Bring your own camping equipment and personal gear. Activities include climbing and rappelling on our spectacular natural rock faces, shooting sports (archery, shotgun, .22 rifle & cowboy action shooting ranges), mountain biking on the various roads, trails and open areas throughout camp or learn the basics of blacksmithing.
For more information download a copy of the Activity Guide. Additional general information about coming to Camp Rock Enon is located in the RESOURCES menu to the right.
Registration Opens August 1, 2022
Activity Guide and more information will be available soon.
Open Activities Day at Camp Rock Enon October 15, 2022
Open Activities Day at Camp Rock Enon October 21, 2023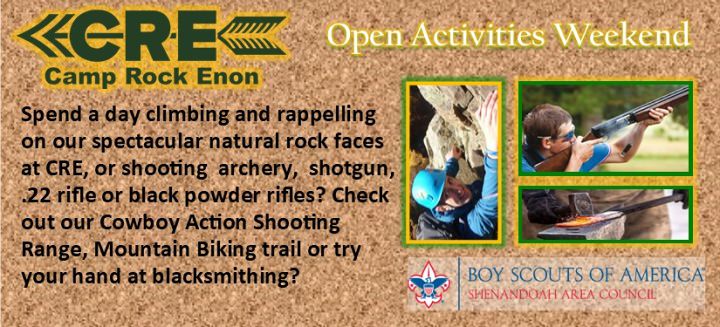 | File Name | Description | |
| --- | --- | --- |
| Activity Guide CRE Open Activities Day 2021 | | Download |