Camporee Hosted by Shawnee District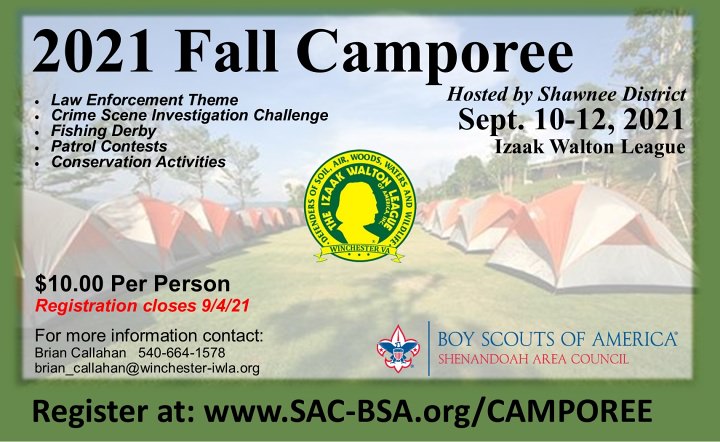 Winchester Izaak Walton League
May 15, 2021 - RESCHEDULED to September 10-12, 2021
Law Enforcement theme with local, state, and federal law enforcement agencies, Crime Scene Investigation Challenge, Fishing Derby, Patrol Contests, Conservation Projects
Registration Closes Friday, August 13, 2021
Bring your own lunch/food
Unit camping option available.
PLEASE NOTE: Everyone (Scouts, leaders, adults, siblings, and staff) that will be in attendance at this activity MUST have a current copy of their BSA Medical form parts A & B with them when they check-in.
COST
$10.00 per Participant
CANCELLATION POLICY
For a copy of the Shenandoah Area Council Event, Refund Policy go to www.SAC-BSA.org. All requests for a refund must be received within 7 days of the event date. Complete and submit Refund Request form the Shenandoah Area Council.