CubChatLive!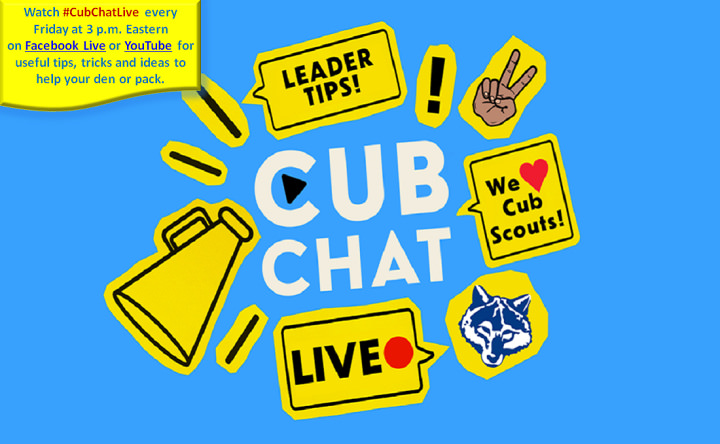 Watch #CubChatLive every Friday at 3 p.m. Eastern Time on Facebook Live or YouTube for useful tips, tricks, and ideas to help your Cub Scout Pack.
To learn more about #CubChatLive or view past episodes visit:
Upcoming Episodes
Some episodes geared specifically towards the NEW Cub Scout Program Rollout that takes effect June 1, 2024.
Dec. 1: The Cub Scout Bobcat requirement is changing, and we have the details.
Dec. 8: It's Pinewood Derby season! We'll talk about what we've seen that works, and what doesn't work when conducting one of the most popular events of the Cub Scout year.
Jan 12: New and Improved Adventures
Feb 2: Webelos and Arrow of Light
Mar 1: Handbook and Leader Resources
Apr 5: Den and Pack Meetings
May 10: Top 10 Most Common Questions
June 7: Safety Integration
Below are some of the many past episodes.
Check back here at 3 pm on Fridays to watch the #CubChatLive here below.