Cub Family Camp
The Shenandoah Area Council hosts weekend family activities for Cub Scouts at Camp Rock Enon. Open to all Cub Scouts (grades K-5) their siblings, parents and/or guardians, these activities include a variety of options for participation as an individual Scouting family with or without members of your Pack. You can choose to attend for the Day-Only or camp overnight in one of the many campsites at CRE. Bring your own camping equipment and personal gear. Food service is provided in our dining hall. For more information about a specific family camp or to register click on the graphics below. Additional general information about coming to Camp Rock Enon is located in the RESOURCES menu to the right. An Activity Guide will be available prior to the event date for download using the link below.
UPCOMING EVENTS & ACTIVITIES:
CUB FAMILY CAMP - Registration opens Feburary 1
Activity Date: May 13-14, 2023 Registration Deadline: May 6, 2023
ACTIVITIES:
Cub Scouts and their siblings will enjoy a variety of outdoor games and activities, in addition to rock wall climbing, archery, bb gun, sling shot shooting and fossil hunting.
Fees:
OVERNIGHT CAMPING OPTION: Youth $30 each (includes patch, program materials, campsite and 3 meals) Adult $22 each (includes campsite and 3 meals)
DAY ONLY OPTION: Youth $25 each (includes patch, program materials and 2 meals) DAY ONLY Adult $17 each (includes 2 meals)
LATE FEE: $10 per person (if not paid in full by 4/21/23) REGISTRATION CLOSES 5/6/23 – NO WALK IN'S
PLEASE NOTE:
This is a FAMILY activity. The Scout can register to participate in this activity without their Den or Pack but MUST have a parent or legal guardian registered with them. ALL family members are welcome to participate in this activity. Register your Cub Scout and each member of the family that will be attending Family Camp.
Some activities will have limited capacity and require that Scouts (and their siblings) SIGN-UP IN ADVANCE to reserve a spot if they want to participate in the following activities: Archery, BB gun, Sling Shot & Climbing Wall. There is no additional charge to participate in these activities. All other activities will be "OPEN" during normal program times. For instructions on how to sign up for these activities refer to the instructions on page 3 of the Activity Guide.
MEDICAL: Each participant (youth/adult) must have a copy of the Annual Health Form Parts A & B with them when they check in at camp. This can be downloaded at http://www.scouting.org/scoutsource/HealthandSafety/ahmr.aspx
For more information about this events activities contact: Erin Kinnaman 540-539-4107 kinnaman925@gmail.com
REGISTRATION OPENS FEBRUARY 1ST
Cub Scout Spring Family Camp May 13, 2023 to May 14
Cub Scout Spring Family Camp May 11, 2024 to May 12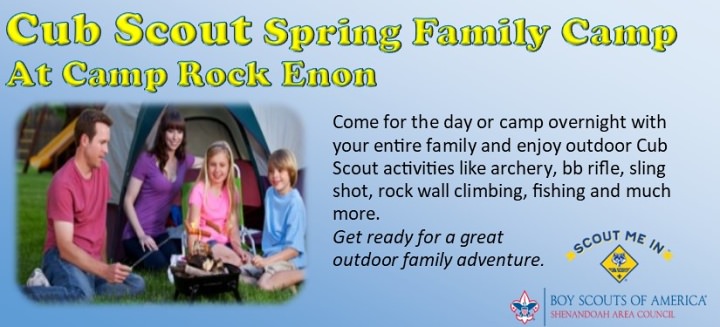 | File Name | Description | |
| --- | --- | --- |
| Activity Guide Cub Spring Family Camp | | Download |