Merit Badge University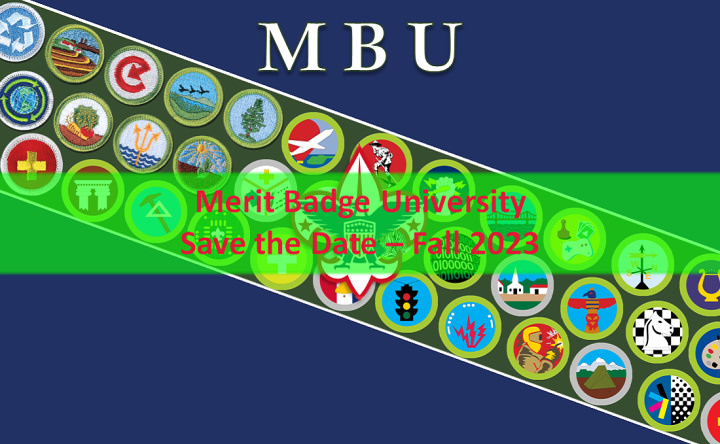 BSA's unmatched merit badge program offers challenging, life-changing experiences Scouts can't get anywhere else.
5th Annual Merit Badge University
WHEN: Saturday, October 28, 2023 (8:00 AM to 5:00 PM)
WHERE: Laurel Ridge Community College
COST: $15 per Scout / $5 per Adult - Includes Event Patch OR FREE for Adults - No Event Patch
See the Leader Guide below for more details.
UPDATE 9/20 - MEALS: We are exploring the opportunity for a meal add-on for a small additional fee. Estimated at $5-10 per meal. Catering via Shaffer's BBQ & Market. Choices would be a Sandwich (Pork or Chicken) or a salad, chips, a cookie, and bottled water. We hope to know more within the next week and will update it here.
Calling All Scouts BSA Troops
The 5th Annual Merit Badge University will be hosted on Saturday, October 28, 2023, at Laurel Ridge Community College in Middletown, VA. The event is sponsored by Shenrapawa District Troop 118. This is a one-day event that provides Scouts the opportunity to work on a wide array of merit badges. There will be two 3-hour sessions, one from 9:00 AM to 12:00 PM and one from 1:00 PM to 4:00 PM. Classes may consist of a morning session, an afternoon session, or both sessions.
List of Merit Badge Classes
Attention Counselors!!
The 5th Annual Merit Badge University is seeking Merit Badge Counselors. If you are interested in offering your skills and expertise to teach a merit badge, contact Stephanie Short at Stephanie.Short.118@gmail.com by Friday, June 2, 2023, with a list of merit badges you would like to offer along with your time session choice. Lunch will be provided for our volunteers.
| File Name | Description | |
| --- | --- | --- |
| 2023 Merit Badge University Leader's Guide | | Download |