OA Inductions & Work Projects at Sinoquipe Scout Reservation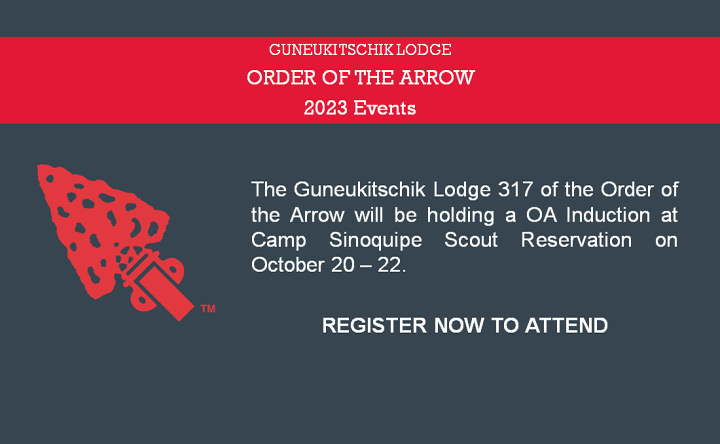 This OA Inductions event is for candidates elected after January 1, 2023.
Check-In: 5-8 p.m. in Wishalow Lodge on Friday, October 20, 2023. Please note that EVERYONE must check in upon arrival.
Schedule: This will be provided at check-in.
Parking: All vehicles will park in the designated parking area. Minors who drive to camp are to turn over their car keys at check-in. For safety purposes, no one is to leave camp without checking out at the Health office.
Equipment: For Ordeal candidates, please refer to the email you received following your Callout. Each participant should bring their own equipment, personal gear, and TENT!
Medical Form: A current BSA Annual Health & Medical form is required for each participant and is to be submitted upon arrival at camp. Only Parts A & B are required.
Cost:
$0 per Golden Ticket Holder
$10.00 per OA Member (you are a current Ordeal, Brotherhood, or Vigil Member)
$50.00 per Ordeal Candidate
$35.00 per Brotherhood Candidate
If you need assistance with your registration please contact the Hagerstown office at 301-739-1211
| File Name | Description | |
| --- | --- | --- |
| BSA AHMR Medical Form Parts A & B | BSA Annual Health and Medical Record (AHMR) - Parts A & B https://www.scouting.org/health-and-safety/ahmr/ | Download |