Scouts BSA Outdoor Adventure Weekend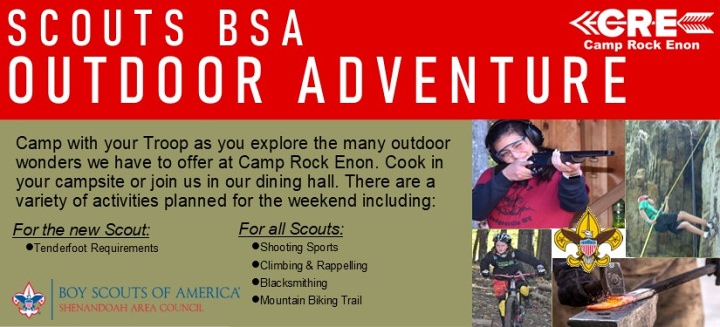 Registration for this event opens on February 1, 2022. A Leader Activity Guide is available for download below.
Activity Date: April 8-10, 2022 Registration Deadline: April 1, 2022
Fees: Youth $15 each (includes patch, program materials and campsite) Adult $10 each (includes patch and campsite)
Optional Meal Service $20 (includes Saturday breakfast, lunch and dinner and Sunday breakfast served in the dining hall)
LATE FEE: $10 each (if not paid in full by 3/26/2022) REGISTRATION CLOSES 4/1/2022 – NO WALK IN'S
PLEASE NOTE:
This is a UNIT activity. The Scout must register to participate in this activity with their troop, 2-deep leadership is required. Camp overnight in one of the campsites at Rock Enon, bring your own tent(s), sleeping bags and other camping gear. Cook in your campsite using food, equipment and gear that you bring or purchase an OPTIONAL Meal Service to eat in the camp dining hall (additional fee).
Cowboy Action Shooting is available to any Scout age 14+, MUST HAVE SIGNED CONSENT FORM (available in for Forms appendix of the Activity Guide)
Activity Plans include the following:
Scouts will experience a representative living history of pioneer lives and wood skills in 18th century Virginia and are encouraged to dress in period appropriate clothing. Activities will include hands on woodman skills such as rope making, blacksmithing, woods tools, fire building, hide tanning and outdoor cooking. Have you ever made apple butter or churned butter? Also planned is a French & Indian War demonstration and local colonial frontier history of the northern Shenandoah valley. Patrol and individual competitions such as crosscut speed log sawing, flint and steel fire building, Hawks best archery, tomahawk throwing and black powder muzzle loader shooting competitions.
Additional activities will include:
Tenderfoot requirements – for the new Scout

Cowboy Action Shooting range – must be age 14+

Climbing & Rappelling
Scouts BSA Adventure Weekend April 07, 2023 to April 09
| File Name | Description | |
| --- | --- | --- |
| Activity Guide Scouts BSA Outdoor Adventure Weekend 2022 | | Download |