Scouts BSA Outdoor Adventure Weekend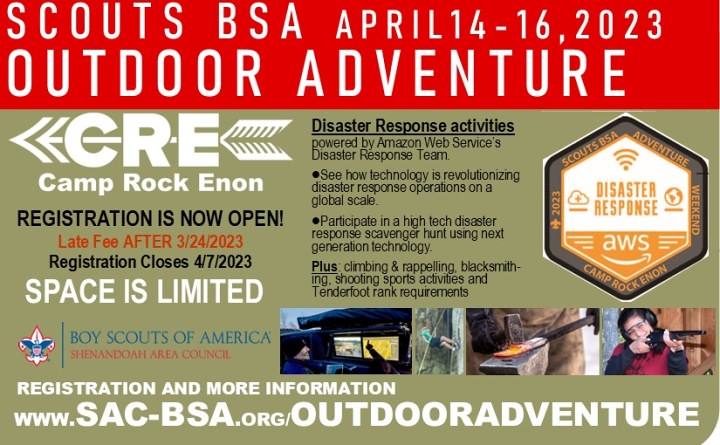 This is a UNIT activity. The Scout must register to participate in this activity with their troop, 2-deep leadership is required. Camp overnight in one of the campsites at Rock Enon, bring your own tent(s), sleeping bags and other camping gear. Cook in your campsite using food, equipment and gear that you bring or purchase an OPTIONAL Meal Service ticket to eat in the camp dining hall (additional fee). Meal tickets must be purchased at the time of registration for the event, no walk-ins to the dinign hall will be permitted.
Cowboy Action Shooting is available to any Scout age 14+, MUST HAVE SIGNED CONSENT FORM (available in for Forms appendix of the Activity Guide)
Check out the "Disaster Response" activities during the Scouts BSA Adventure weekend at Camp Rock Enon Scout Reservation on April 14-16, 2023. Powered by Amazon Web Service's Disaster Response Team, Scouts will experience firsthand how technology is revolutionizing disaster response operations on a global scale. The AWS Disaster Response Team will be on hand to demonstrate how they coordinate technology and resources with government, NGO, utilities, non-profit organizations, and volunteers to revolutionize disaster response and recovery operations on a global scale. Scouts will be able to participate in a high-tech scavenger hunt using next-gen technology. Scouts can also check out various activities at our shooting ranges including cowboy action shooting, climbing and rappelling on the natural rock faces at camp or blacksmithing basics. Plus, new Scouts will have the opportunity to work on some of their Tenderfoot requirements. Whether you are looking for a low-key relaxing weekend with a few fun outdoor activities or you want to geek out with some high tech activities, this weekend event at Camp Rock Enon Scout Reservation has you covered. Space is limited, so register early.
Disaster Response activities:
Explanation from the experts on how government and other agencies

coordinate and

respond to provide assistance to people impacted by large catastrophic disasters.

Demonstration of a Team Awareness Kit utilizing Raspberry Pi, software defined radio, and Automatic Dependent Surveillance-Broadcast systems

See how drones are being used with Artificial Intelligence/Machine Learning to help guide disaster recovery operations.

Talk with the teams designing and building the technology powering the first responders of tomorrow.

High tech "Disaster Response" scavenger hunt using next generation technology.
REGISTRATION OPENS JANUARY 1ST
Scouts BSA Outdoor Adventure Weekend April 12, 2024 to April 14
| File Name | Description | |
| --- | --- | --- |
| Activity Guide Scouts BSA Outdoor Adventure Weekend | | Download |