Trainer's EDGE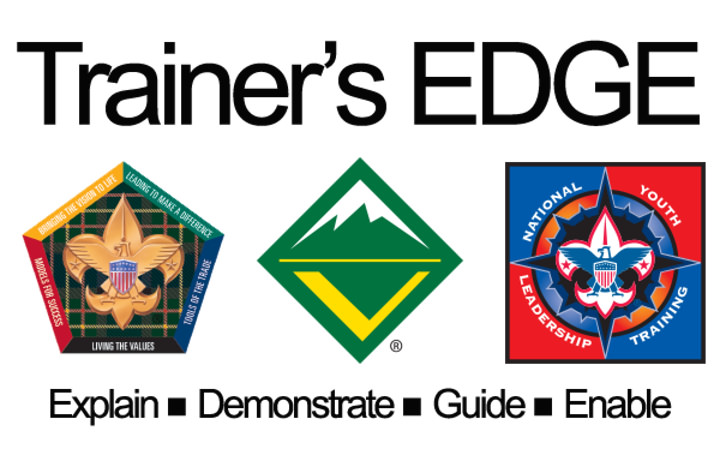 The Trainer's EDGE is a required course for:
Wood Badge for the 21st Century Staff
National Youth Leadership Training (NYLT) Staff
Council & District Training Staff
Pack Trainers
and anyone interested in polishing their training skills.
The purpose of the Trainer's EDGE course is to provide and help develop the platform skills of a trainer and is meant to supplement the practice that is offered through Wood Badge and NYLT staff development. You will have the opportunity to hone your skills and give several presentations during the day to put into practice the skills taught through Trainer's EDGE.
The course is held each January at the Armstrong Service Center.
Course Preparation and Details
Uniform: BSA Field Uniform
Pre-course Preparation: Please prepare a 5 minute presentation on a topic from any BSA materials. Your presentation should allow you to demonstrate the skills of a Trainer. You will receive constructive feedback on your presentation from other participants. Please prepare proper visual aids as necessary.
If you have any questions, please feel free to contact Michael Hosking by EMAIL or at (304) 620-2454
| File Name | Description | |
| --- | --- | --- |
| Trainer's Edge | | Download |