Webelos Woods Camp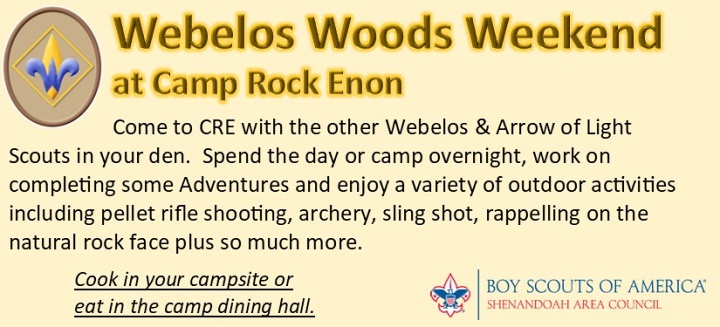 Webelos Woods is a UNIT activity open to all Webelos & Arrow of Light Scouts (grades 4-5) register to participate in this activity with their Den or Pack and MUST have the required leadership with them. This event offers TWO great options to get outside with your Scouts. Two-deep leadership is required.
General Activities include pellet gun, archery and sling shot at our Shooting Sports ranges, repelling on our natural rock face, fishing, games and much more. Plus, Scouts will have the option to work on some of the requirements for rank advancement Adventures.
SPACE IS LIMITED at all shooting sports and climbing activities so that we can manage the group size at these stations during each session. A "pre-event sign-up" for all shooting sports, climbing and Adventure activities is required at the time of registration.
Registration Opens July 1, 2022
Leader Activity Guide is available for download by clicking the link below.