Cub Scout Shooting Sports Day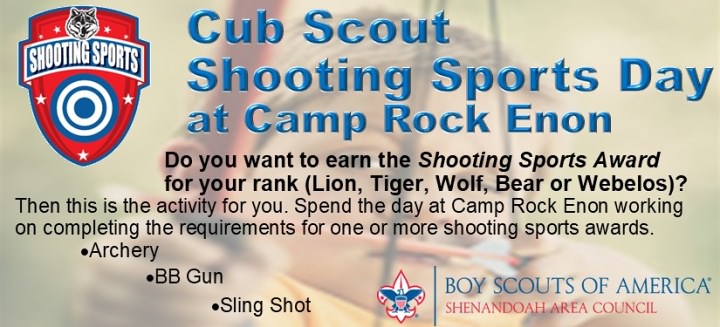 PLEASE NOTE:
This is an INDIVIDUAL activity. The Scout will register to participate in this activity without their Den or Pack and MUST have a parent or legal guardian registered with them. However, a Den or Pack can bring a group of Scouts from their unit as long as they maintain the required two-deep leadership. This is NOT an overnight camping activity.
This purpose of this program is to provide the Cub Scout an opportunity to earn one or more shooting sports awards in Archery, BB gun rifle and Sling shot disciplines. The shooting sports award has different requirements for each rank (Lion*, Tiger, Wolf, Bear, Webelos/Arrow of Light) and can be earned each year as the Scout advances through the program.
The Scout first completes the Level 1 requirements for their "rank" in one or more of the three disciplines (archery, bb gun, sling shot). Upon completion they can then wear the Shooting Sports award patch. They then may complete the Level 2 requirements of that same discipline to earn the "Pin" which is worn on the patch.
Additional award pins can be earned by completing both Level 1 & 2 requirements for the remaining disciplines.
Each year (rank) the requirements to qualify to earn the award become more involved. This is a great program to introduce and engage Scouts in Shooting Sports like archery, bb gun and sling shot.
Note: Lions are only eligible to participate in archery and sling shot.
More information on 2023's event will be published soon!
Cub Scout Shooting Sports Day April 22, 2023